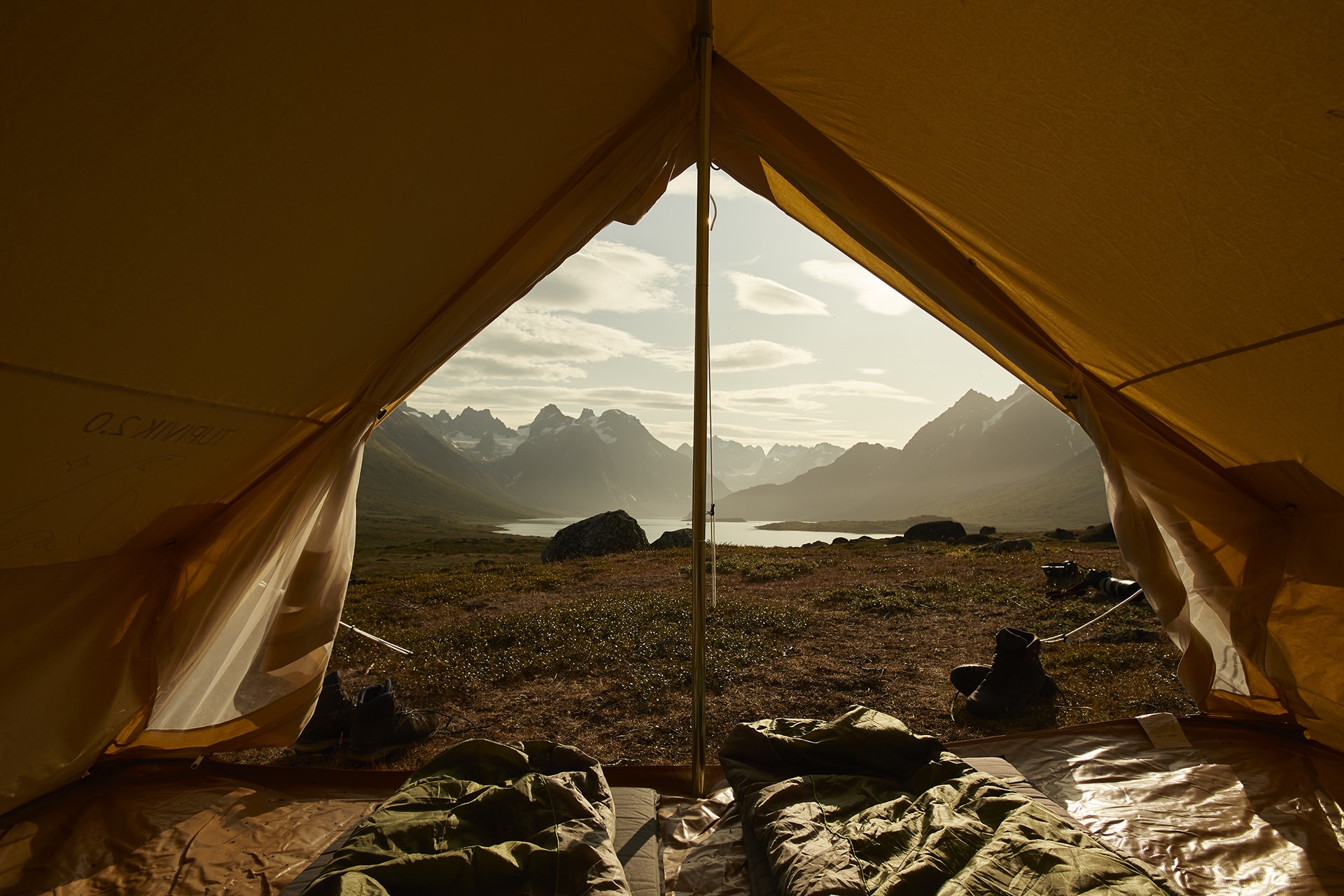 Lake, Kuussuaq & Forest
This particular camping tour offer different side of Tasermiut fjord but not less spectacular. In this camping we put emphasis on the area of forest, creek and of course the big lake of Tasermiut. Our camping is placed at the lake near the creek and this is where you will experience the irresistible scenery of mountains and a lake with a shoreline of 20km.
On this trip you will sail from Nanortalik harbor, further into Tasermiut fjord where you will have a short visit to Tasiusaq settlement and then to one of the ice cap branches where you will experience the mighty natural forces Tasermiut has to offer up close!. The program will continue to our camping in the lake. The area is a neighbor to sheep farmers of Nuugaarsuk, the always charming Poulsen family, who knows perhaps you will get to visit them and enjoy a conversation over the coffee.
Fishing in the creek, swimming in the lake, take a stroll in the forest and in the evening, watch northern lights reflecting through the lake. In the morning before your breakfast and coffee, catch a sunrise coming from the beautiful mountains, I believe your breakfast will taste a lot better!
Itinerary
Day 1: First destination will be Settlement Tasermiut. Duration: 60-30 min.
Next stop will be the ice cap. Duration: 1 hour
Last stop of the day is at Tasermiut Lake where our camp is. Greenlandic dinner will be prepared for the evening. The night will end with entertainment by the bonfire.
Day 2: After breakfast you will have chance to explore & hike around the area.
In the afternoon you will be picked up by our boat and we will then take you back to Nanortalik.
Tour Information

Duration: 2 days 1 night
Difficulty: Easy although expect hikings, so bring some hiking boots and warm clothing.
Boat Type: Closed and heated.
Safety: Our boats are approved by the Danish Maritime Authority for sailing with passengers.
Radio and satellite communications are all covered.
Included: Guide. Boat Transportation from Nanortalik & back. Tents and sleeping bags. Meals.
Special request can be made against extra charge.
---
Book now
---
Do you have any questions about Kuussuaq Camp?